---
TEN EAST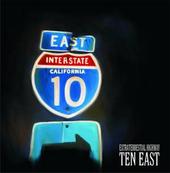 Sounds like Black Sabbath goes surfing.
TEN EAST is a project based in Palm Desert and Los Angeles. The musicians involved share a common respect for improvised jamming mixed with years of playing and listening to all types of rock, psychedelic, latin, jazz, blues, surf and punk music. The end result is a cohesive wall of sound that is intense like heavy, dark, instrumental blues with psychedelic and surf overtones.
"The Ten East recordings were done in Palm Springs, California. The idea going in to this project was pure jamming. Walk in the studio with some ideas for heavy grooves and let the tape roll". (excerpt from: www.Roadburn.com)
Line up:
Gary Arce - guitar (Sort of Quartet, Yawning Man, Oddio Gasser)
Mario Lalli - guitar (Fatso Jetson, Yawning Man, Sort of Quartet, Oddio Gasser)
Bill Stinson - drums (CD6, Fastgato, HOR, Greg Ginn)
Brant Bjork - bass (Kyuss, Fu Manchu, The Bros)

Live Greg Ginn (of BLACK FLAG fame) will replace Mario Lalli and Billy Cordell (of UNIDA, YAWNING MAN fame) will fill in for Brant Bjork.