NEBULA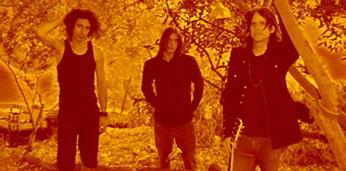 Los Angeles based trio, comprised of Eddie Glass (Guitar/Vocals), English geezer Tom Davies (Bass/Vocals) & Rob Oswald (Drums). In the early nineties, Eddie Glass played lead guitar with Fu Manchu, wrote some of the songs and played lead guitar on the first three albums. Together with Ruben Romano, in 1997 Eddie started Nebula and soon after the band started touring the world extensively. In 2004 Tom Davies crossed the Atlantic to join the Nebula ranks.
With the recent addition, in early 2007, of Rob Oswald (Karma To Burn/Mondo Generator), Nebula are re-igniting the fires started in '97. We find them five albums later; one on 'Relapse', two on 'Sub Pop', a couple of EP's on 'Meteor City' and now long gone 'Mans Ruin' and a long list of records with 'Cargo Sweet Nothing', and regularly features in soundtracks to movies and TV shows. After appearances at 'Sunset Junction' Festivals and numerous tours in Europe, Australia, Japan, South America and many North American tours with the likes of Mudhoney, J Mascis & The Fog and The Hellacopters, Nebula have recently returned from a month long festival tour in Europe and will continue to tour as long as god & man is willing.
Review 3VOOR12 (live @ Vera, Groningen, Holland)
Nebula lijkt het hoogtepunt van de avond te zijn. Het publiek doet een extra stapje naar voren om de band te zien spelen en deze stelt hun fans niet teleur. Het wordt een steengoed optreden waarbij je nooit helemaal zeker bent of je luistert naar Kyuss die Hendrix covers speelt, of andersom. Bluesriffs, vermengd met zware stonerrock, blijkt een gouden combinatie en zorgt voor een waardige afsluiter van een leuke avond!
Nebula on MY SPACE
Nebula WEBSITE
---
WHEEL OF SMOKE
Band from Leuven, formed during the summer of 2005, by some psychedelic youngsters, who share the same interests and love playing their music, "because music is the most high"!
---
Previous Page