MALLEUS ROCK ART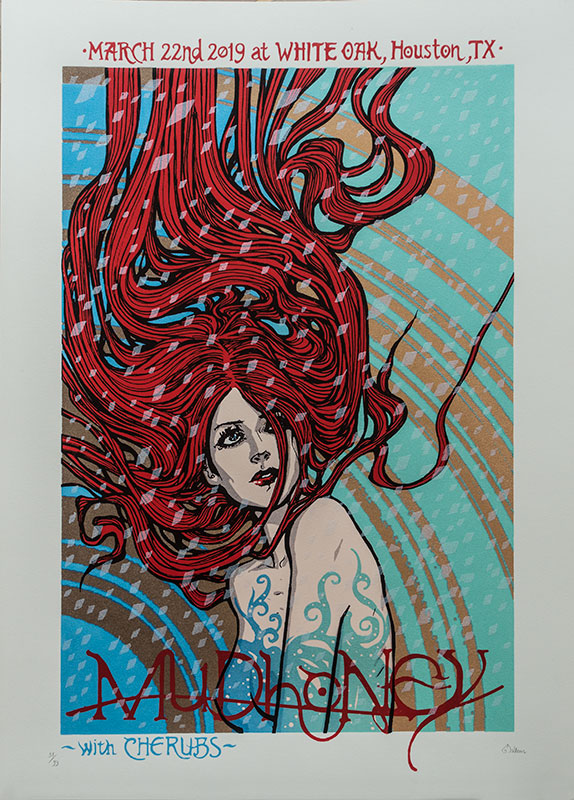 Organic meets Orgasmic: enter the powerful art collective known as Malleus. From the rich organic flow of Art Nouveau, through the psychedelic turmoil of the 60's 'Summer of Love'. Malleus creates a unique fusion of artistic influences with a flare for the macabre that can only be described as raw, sensual, mystical, beautiful, peaceful, and powerful all at once.

Malleus is a trio of artists, Poia, Urlo and Lu, who began creating artworks for the underground music scene in the late 90s. At the end of 2002 Malleus made their first handmade silkscreen poster for The Gallery in Philadelphia. Since then, they have created screen prints for rock acts such as Foo Fighters, Iggy Pop & The Stooges, Queens Of The Stone Age, the Melvins, Sleep, Mono, Motorpsycho, Monster Magnet, Sonic Youth, Sunn0))) and many others.

Malleus explores a variety of visual art forms, from illustration to video to hand made silkscreen printing. During the years, Malleus also realised movie posters (like the Dario Argento poster series in collaboration with the British Dark City Gallery), artworks for books, CDs and vinyls, paintings and illustrations.