HULK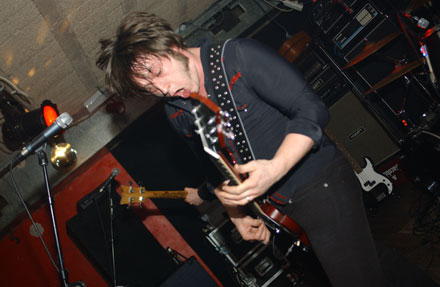 Hulk, hailing from Belgium, are one of the finest bands to emerge on today's high-octane driven [stoner]rock-scene. The band has recorded their second album at the Ranco De La Luna studio's in Joshua Tree with the help of Dave Catching, Brant Bjork & Chris Goss. "On the first Hulk album called "Party Time", there's 75% hard rock from the seventies [AC/DC, Motorhead, Rose Tattoo, Black Sabbath, Aerosmith], says singer/guitarist Renaud, "but there's also a significant place for roots rock [Elvis, Little Richard, Bo Diddley, Otis Redding, Johnny Cash), soul music [Sly and the Family Stone), acid rock [MC5, Blue Cheer, Grand Funk, Slade, T-rex], and for the anger and arrogance of punk rock [Electric Chairs, DMZ, The Damned, The Saints, Sex Pistols]... We want it loud, heavy, and powerful like a war machine! But like our idols, we want to make real songs with heart and soul...
The band will be recording their third album this year.
HULK web
---
BRANT BJORK & THE BROS
Brant Bjork richtte op z'n 16 Kyuss op, speelde bij Fu Manchu en stond mee aan de wieg van de Desert Sessions en QOTSA. Eens de bands te bekend worden, stopt hij er mee en gaat op zoek naar iets nieuws. En de laatste tijd zijn dat The Bros. Brant Bjork & The Bros zijn een stomende live band die laidback desert grooves mengt met soul, '70rock, funk en passie. Bjork's teksten zijn heerlijk spottend en weerspiegelen 's mans interesse voor sex, love & magic. Een Australisch magazine schreef: "The closest thing we'll get to seeing the Hendrix Experience."
---