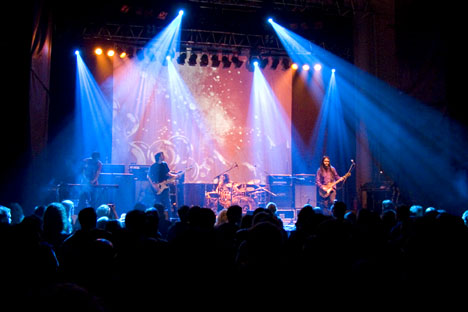 Live review Symforce (013, Tilburg)
During the second edition of the Dutch Symforce Festival I enjoyed the gigs by Magic Pie, The Watch and Alquin but only one band blew me away: the Belgian formation Hypnos 69...
This afternoon many fans had gathered to witness Hypnos 69 and soon it turned out that this band was going to make fans, what a dynamics and enthusiasm. Their sound has obvious hints of the pivotal first King Crimson album, from dreamy with Mellotron to violent with propulsive interplay, fiery guitar and powerful saxophone.
... I would like to emphasize that Hypnos 69 delivers very pleasant and varied, often compelling and dynamic progrock. It was great to notice that the crowd appreciated Hypnos 69 their sound very much and personally I was carried away when the guitarplayer often used the Cry Baby wah-pedal in a very spectacular way and he also stunned the audience by playing a genuine Theremin on stage (imagine the strange sound on Good Vibrations by The Beach Boys). After the concert many progheads rushed towards the Hypnos 69 stand in order to buy CDs, say no more! (By Erik Neuteboom dprp.net)
Hypnos 69 MY SPACE
Hypnos 69 YOUTUBE

---
MAMMOETEN OP KOUSEVOETEN
"Belgium's Mammoeten op Kousevoeten plays instrumental post-rock with all the momentous splendor that sets the genre apart, but the group sets itself apart with a neat trick: squealing woodwinds that swing through the middle of the heaviest compositions, giving the whole thing a delightfully klezmer-ish vibe that's on the fast track to polka."
Mammoeten op Kousevoeten MY SPACE

---
PSYCHEDELIC ART BY MORTEN