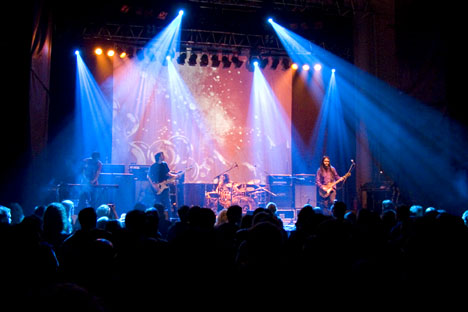 Live review Symforce (013, Tilburg)
During the second edition of the Dutch Symforce Festival I enjoyed the gigs by Magic Pie, The Watch and Alquin but only one band blew me away: the Belgian formation Hypnos 69...
This afternoon many fans had gathered to witness Hypnos 69 and soon it turned out that this band was going to make fans, what a dynamics and enthusiasm. Their sound has obvious hints of the pivotal first King Crimson album, from dreamy with Mellotron to violent with propulsive interplay, fiery guitar and powerful saxophone.
... I would like to emphasize that Hypnos 69 delivers very pleasant and varied, often compelling and dynamic progrock. It was great to notice that the crowd appreciated Hypnos 69 their sound very much and personally I was carried away when the guitarplayer often used the Cry Baby wah-pedal in a very spectacular way and he also stunned the audience by playing a genuine Theremin on stage (imagine the strange sound on Good Vibrations by The Beach Boys). After the concert many progheads rushed towards the Hypnos 69 stand in order to buy CDs, say no more! (By Erik Neuteboom dprp.net)
---
ØRESUND SPACE COLLECTIVE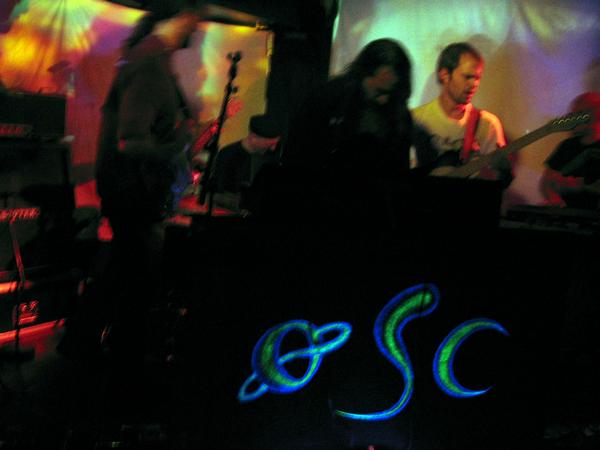 The Øresund Space Collective (OSC) had their first jamsession in April 2004, encouraged by longtime spacerock-fanatic Scott Heller; aka Dr. Space. The collective is a group of Danish, Swedish and American musicians that get together as often as possible for free form improvised cosmic music. The flavour of the music is different with each session.
The stretched out jams can often combine complex interplay between guitar and synthesizer as well intense drumming and bass playing. Sometimes chaotic, sometimes melodic but most of the time funky and cosmic ! We enter into the genre of funk, jazz, reggae, kraut, stoner, folk, world, electronica and space rock ( and probably some others) as we improvise our way along. The jam sessions alternate between Malmö and København across the Øresund bridge, which connects Denmark & Sweden! The core of the collective features current and former members of the Danish bands Mantric Muse and Gas Giant as well as the Swedish band Bland Bladen. Quite often other musicians join as well from other Swedish bands like the Carpet Knights, Drahk von Trip and Sgt. Sunshine.
Mantric Muse is an instrumental progressive psychedelic cosmic-rock band, who has recorded an CD-EP entitled, Picks in Space and are about to finish their first full length CD. The band has played rare concerts in and around København for the last 6 years.
Gas Giant are an internationally known heavy psychedelic stoner rock band, who have toured all over Europe and have released several albums, with the latest called Mana.
Bland Bladen, are a progressive instrumental space folkrock band based in Malmö, Sweden. The band released a debut CD-R in 2004 on their own and has played mainly in Scandinavia.
Øresund Space Collective on MY SPACE


---
Previous Page