BRANT BJORK & THE BROS
Kyuss meets J.J. Cale. The mellowest man of the entire desert/stoner-scene returns to Belgium with his band the Bros, a bag of laidback grooves and songs about the finer things in life. Previous visits were already a big success and also this time, Bjork & Co. will bring you the funkiest desert party of the year. (gp)
Brant Bjork and his band The Bros (Mike Peffer on drums, Dylan Roche on bass, and Cortez on guitar), have toured for much of the past two year hitting Europe, the States, and Australia. BB & the Bros live shows are fast becoming recognized as the best live rock and roll going and as Aussie rag BEAT put it, "The closest thing we'll get to seeing the Hendrix Experience." Dig it.
---
HULK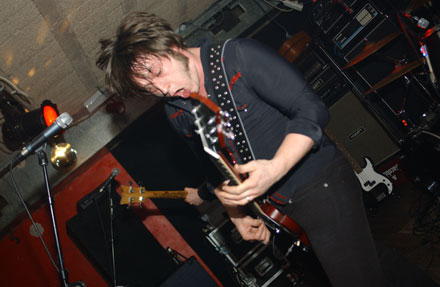 Hulk, hailing from Belgium, are one of the finest bands to emerge on today's high-octane driven [stoner]rock-scene. The band has recorded their second album at the Ranco De La Luna studio's in Joshua Tree with the help of Dave Catching, Brant Bjork & Chris Goss. "On the first Hulk album called "Party Time", there's 75% hard rock from the seventies [AC/DC, Motorhead, Rose Tattoo, Black Sabbath, Aerosmith], says singer/guitarist Renaud, "but there's also a significant place for roots rock [Elvis, Little Richard, Bo Diddley, Otis Redding, Johnny Cash), soul music [Sly and the Family Stone), acid rock [MC5, Blue Cheer, Grand Funk, Slade, T-rex], and for the anger and arrogance of punk rock [Electric Chairs, DMZ, The Damned, The Saints, Sex Pistols]... We want it loud, heavy, and powerful like a war machine! But like our idols, we want to make real songs with heart and soul...
The band will be recording their third album this year.
HULK web
---