14 YEARS ORANGE FACTORY
A 2 day celebration of independent rock music and poster art!
FRIDAY SEPTEMBER 30
---
ANEKDOTEN - 21:30 -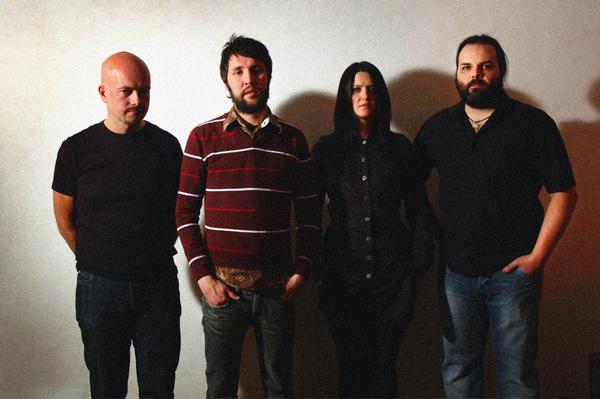 Anekdoten are considered one of the leading bands in contemporary progressive rock. Their intensive, dark, dynamic and original music has made an appeal among metal- and rockfans all over the world. They combine their 70's influenced progressive rock (King Crimson, Pink Floyd) with a more contemporary sound, plunging deep into their very own universe. The band has a reputation as a great live act and they have been touring in Europe numerous times, played in the USA three times and Japan twice. They also performed in Canada, Argentina, Brazil and Mexico. Anekdoten's music also shows affinity with contemporary bands like Mono, Motorpsycho or Porcupine Tree.

Anekdoten on Myspace
Anekdoten website


---
MONKEY3 - 19:30 -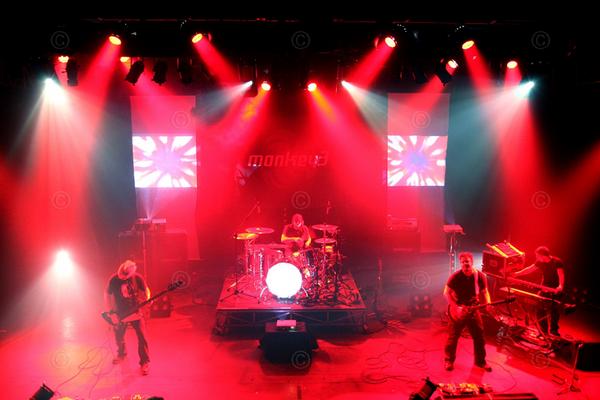 The Swiss instrumental four-piece of Monkey3 appeal to stoner, post rockers and metal lovers alike. The band makes heavy spacerock with Tool-inspired interplay, Pink Floyd like atmospheres, the heaviness and futurist keyboards of Ufomammut, conjuring epic visions like Mono, and is also groovy as 35007 and in your face like Karma to Burn. And oh yeah, they created their own very recognizable sound! The band's reputation as a tight live act got confirmed with a stunning Roadburn appearance last year. This year, their new album Beyond the Black Sky got released via Stickman Records.
Monkey3 on Myspace
Monkey3 website


---
TEMPLE OF NOTHING - 18:30 -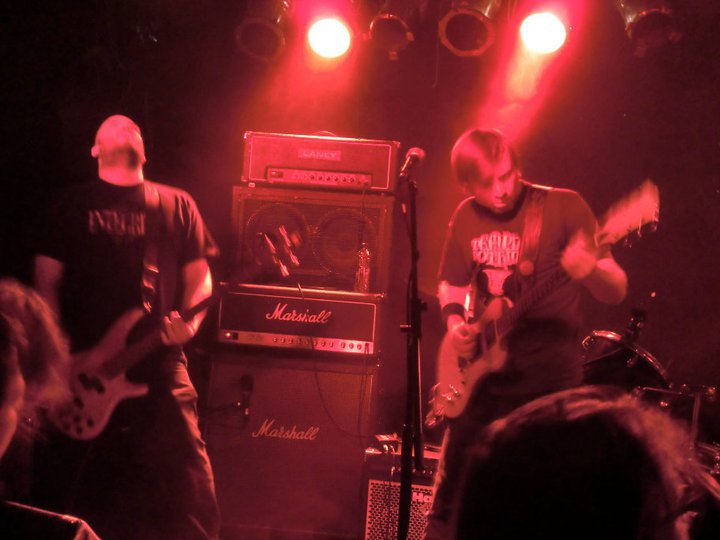 Temple of Nothing is a belgian doom-stoner band formed in 2010 by 4 long time friends with a strong experience in the rock/metal scene (Set The Tone, Gog Of Magog, ...).
Their debut Lazarus EP" is available on Ruined Lives Records. The band is now working on its debut full length album.
---
SATURDAY OCTOBER 1
---
UFOMAMMUT - 21:30 -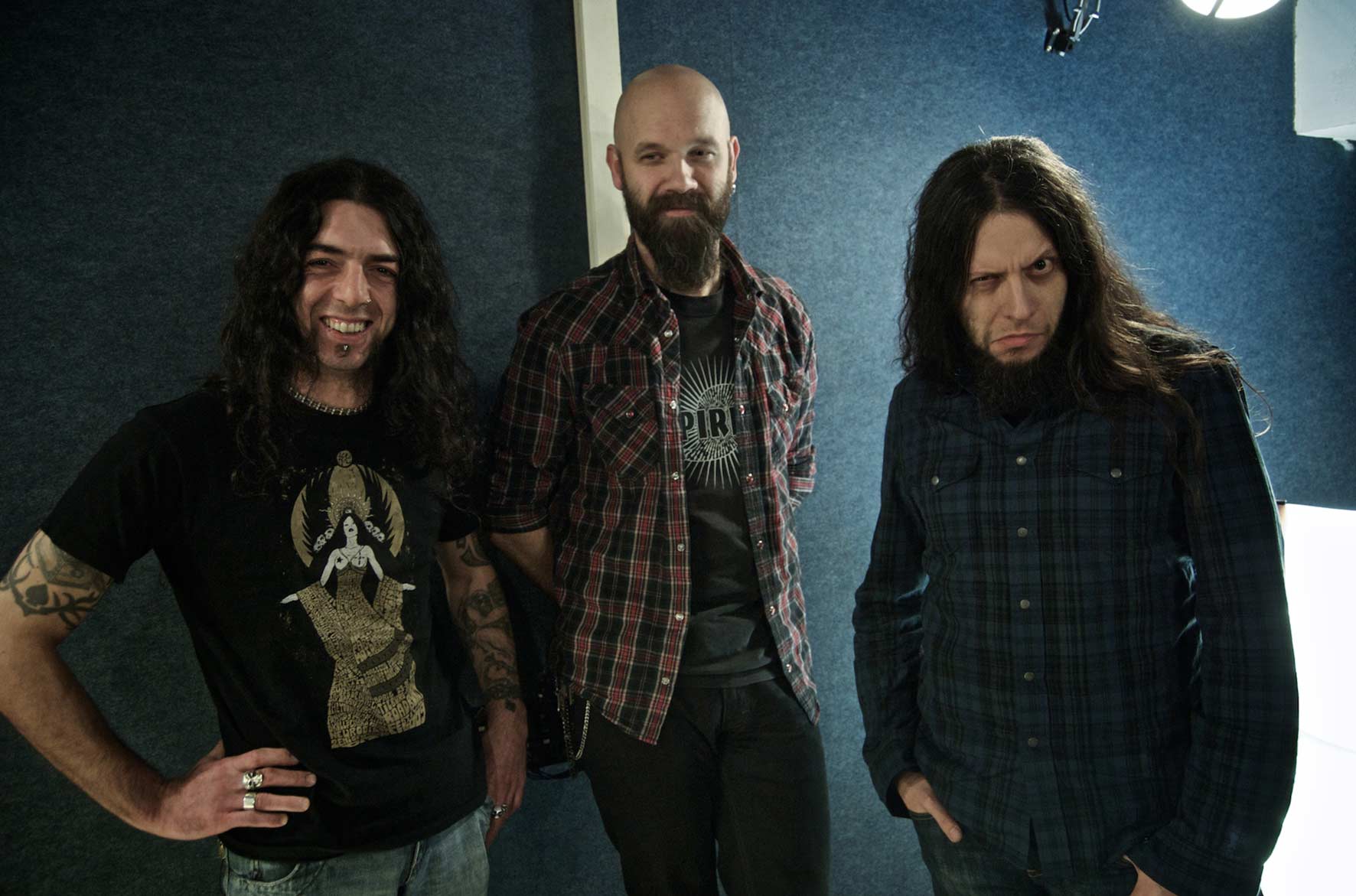 With long songs, droning vocals and massive effects Ufomammut is right there along side of Neurosis, combining their monumental riffing attitude with the psychedelia of the more visionary Pink Floyd. Latest work Eve is a monstrous, dynamic album with atmosphere, huge riffs, and psychedelic touches all arranged into very well written segments. The album got voted for 'Roadburn Album Of The Year' and the Ufomammut live show, supported by the internationally acclaimed video and graphic art of Malleus, was one of the highlights of the Roadburn festival 2011!
And Ufomammut just joined Neurot Recordings!
Ufomammut website
Ufomammut on Myspace


---
WHITE HILLS - 19:45 -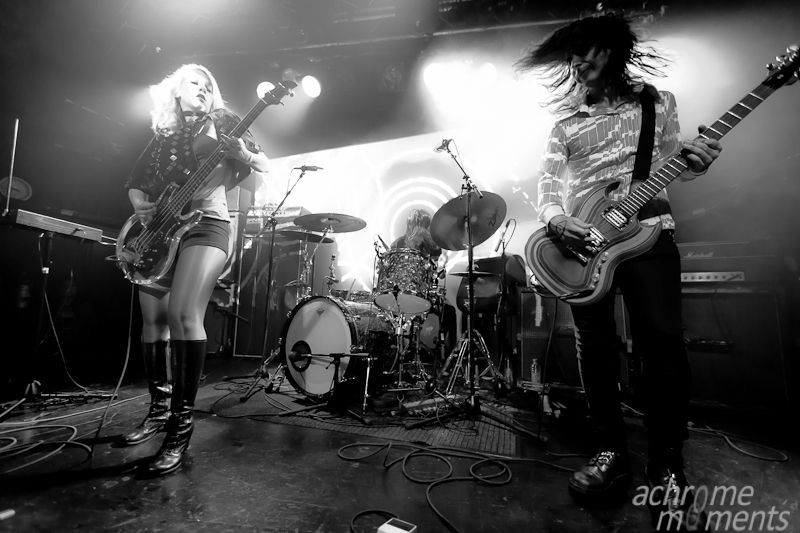 With just the right blend of psychedelia and hypnotic grooves, White Hills weaves in and out of anthemic chants, deep space bleeps and other worldly madness for a mix that proves to be intoxicating. Since the release of the band's debut CD, listeners have been praising their originality and unique brand of heavy space rock. White Hills formed out of the need to forge Space Rock into the 21st Century.
One could describe the music as a mix of Hawkwind's swirling psychedelic boogie freak-outs and Pink Floyd's more pastoral astral explorations. Fans of aforementioned bands, and of Loop and Suicide won't be disappointed.
White Hills on Myspace
White Hills blog


---
MORKOBOT - 18:30 -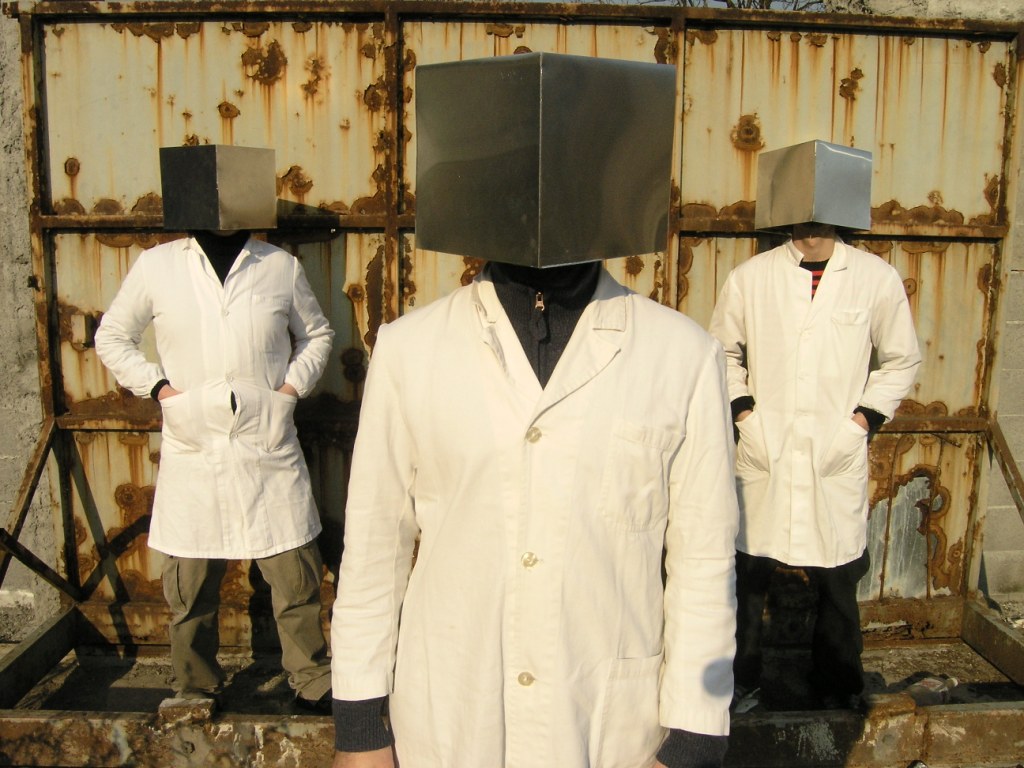 MoRkObOt is an Italian trio consisting of three men (Lin, Lan and Len) with cubic heads who create their music with only two basses and a drumkit, yet the sound is incredibly intense. The band is signed to the Supernatural Cat label and after the self titled album and Mostro, the trio has realized Morto, a single long track. Drums here are not only the pace-maker, they are a world in themselves, an ever changing dance of various drum-sounds. The bass-guitars are used so, that you can hardly recognize bass and go from buzzing, screeching and grinding sounds to strong heavy riffs.
---
FRIDAY SEPTEMBER 30 - SATURDAY OCTOBER 1 - SUNDAY OCTOBER 2
---

ROCK POSTER EXHIBITION
Exhibition with original silkscreened gig posters, hand made by the artists. Each poster commemorates a show, special event, or tour, and each poster is a limited edition hand pulled screen print. The Chinese invented screen-printing 2000 years ago, more recently the silkscreened rock poster with psychedelic colours and mindbending patterns got popular in the 1960's. In 2004 the concert poster bible The Art of Rock, received an update and the new version of the Art of (Modern) rock includes many contemporary international poster artists, among which Malleus, Gary Houston and John Howard. The handmade screen printed posters will be exhibited in the arch hallway and classrooms of this previous school building, now converted to rock club.

GARY HOUSTON (VOODOO CATBOX)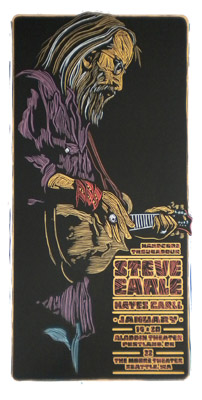 Gary Houston, located in Portland, Oregon, has been designing and screen-printing posters for almost 20 years. As such, his catalog of work is quite voluminous. Designing posters for bands from every point on the musical spectrum, his credits include B.B. King, Pearl Jam, Phil Lesh, and the Big Summer Classic concert series.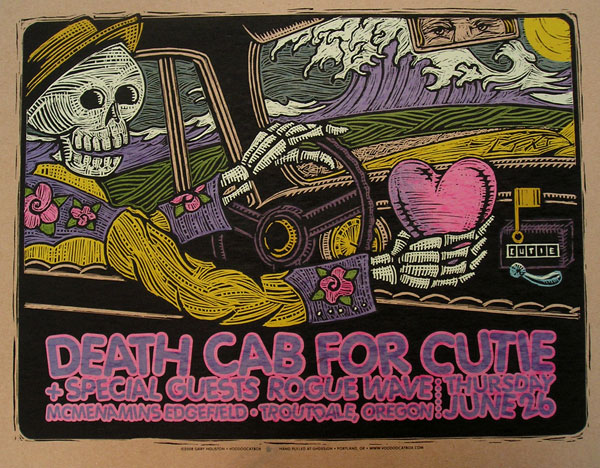 Houston's references are many, his mind a mass of quirky connections that emerge in dramatically differing styles of art, including his signature scratchboard posters. He also likes to sneak in a little humor and symbolism in his work.
In 1995, Houston and partner Mike King formed the company Voodoo Catbox in order to personally print their posters by hand as well as "to keep the spirit of hands on production alive, and to give voice to less than mainstream musical groups." Voodoo Catbox website


MALLEUS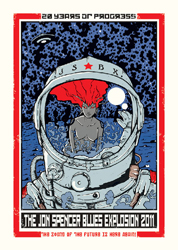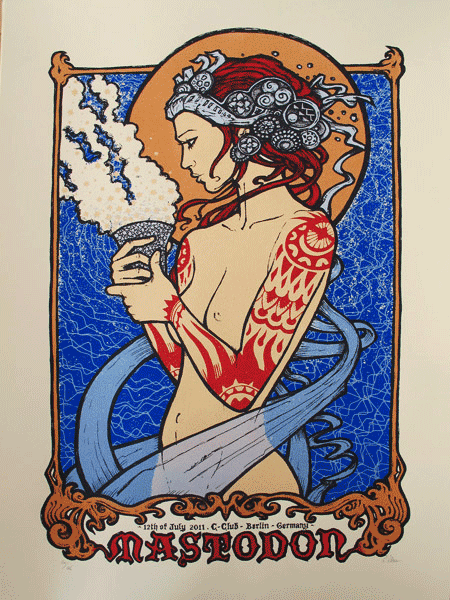 Malleus is an artistic collective of three artists Urlo, Poia and Lu, based in Italy and dedicated to the creation of generally silkscreened poster art. Urlo (bassist and vocalist) and Poia (guitars) are also members of Ufomammut.
Malleus' distinct style involves a clear line and vibrating colours. From the rich organic flow of Art Nouveau, through the psychedelic turmoil of the 60's 'Summer of Love', they create a unique fusion of artistic influences with a flare for the macabre that can only be described as raw, sensual, mystical, beautiful, peaceful, and powerful all at once. Malleus worked for Iggy Pop, Monster Magnet, Sonic Youth and many others and has been designing posters for Orange Factory shows since 2000. Malleus website


JUSTIN SANTORA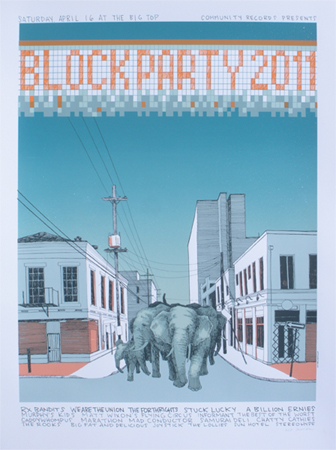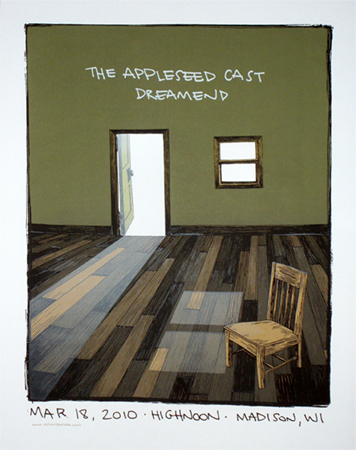 Based in Chicago, Justin Santora is a young illustrator whose work often features unfinished buildings or general architectural structures and his love for animals. Santora's style is inspired by the works of artists such as Francis Bacon, Roy Lichtenstein as well as drawing inspiration from comic-book art. His posters are primarily screen-printed and his drawings have a soft but dark coloured, sketch-like quality. The bulk of Santora's work is for indie-rock and punk bands, like My Brightest Diamond, The Silver Mt. Zion Memorial Orchestra, and Dinosaur Jr. "I think that bands and [poster]artists are able to promote one another symbiotically through the cultures surrounding both music and poster art," he says. website Justin Santora


JOHN HOWARD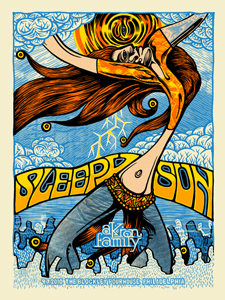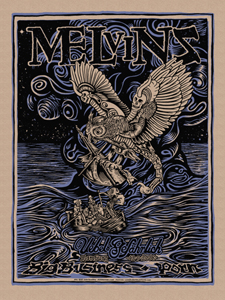 John Howard, the man behind Monkeyink, is an artist living in the San Francisco Bay Area who specializes in interpreting music visually with bold, seemingly carved, often psychedelicized illustrations. Starting in 1994 John designed posters for local venues like The Fillmore (Bill Graham Presents) and the Great American Music Hall. His gig posters feature the likes of Sonic Youth, Melvins, Mudhoney, High On Fire, Boris, Tortoise, Deerhoof, Mudhoney and Queens of the Stone Age. Howard is known for his carefully screen printed 3-D posters, the images really pop off the paper if you use the 3-D glasses provided! Monkey Ink website



EXHIBITION:
Friday September 30: 18:00 - 23:00 (entrance fee, including gigs)
Saturday October 1: 13:00 - 17:00 (free)
Saturday October 1: 18:00 - 23:00 (entrance fee, including gigs)
Sunday October 2: 15:00 - 19:00 (free)





---
Back to Concerts