14 YEARS ORANGE FACTORY
A 2 day celebration of independent rock music and poster art!


ROCK POSTER EXHIBITION
Exhibition with original silkscreened gig posters, hand made by the artists. Each poster commemorates a show, special event, or tour, and each poster is a limited edition hand pulled screen print. The Chinese invented screen-printing 2000 years ago, more recently the silkscreened rock poster with psychedelic colours and mindbending patterns got popular in the 1960's. In 2004 the concert poster bible The Art of Rock, received an update and the new version of the Art of (Modern) rock includes many contemporary international poster artists, among which Malleus, Gary Houston and John Howard. The handmade screen printed posters will be exhibited in the arch hallway and classrooms of this previous school building, now converted to rock club.



OPENING HOURS:
Friday September 30: 18:00 - 23:00 (entrance fee inlcuding gigs)
Saturday October 1: 13:00 - 17:00 (free)
Saturday October 1: 18:00 - 23:00 (entrance fee inlcuding gigs)
Sunday October 2: 15:00 - 19:00 (free)




GARY HOUSTON (VOODOO CATBOX)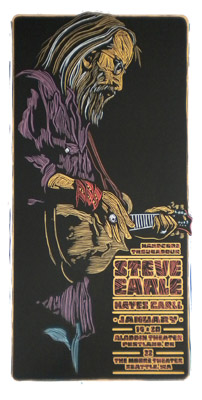 Gary Houston, located in Portland, Oregon, has been designing and screen-printing posters for almost 20 years. As such, his catalog of work is quite voluminous. Designing posters for bands from every point on the musical spectrum, his credits include B.B. King, Pearl Jam, Phil Lesh, and the Big Summer Classic concert series.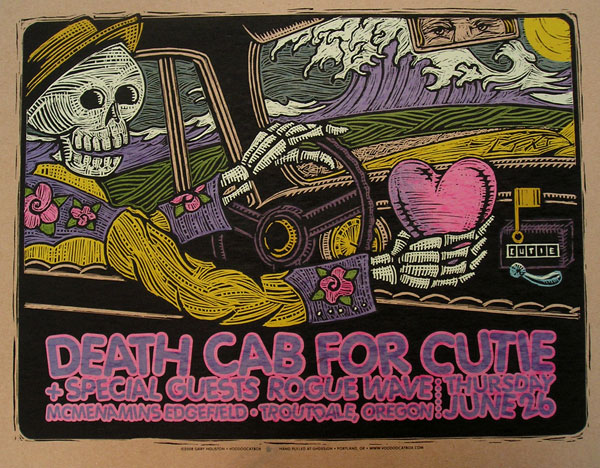 Houston's references are many, his mind a mass of quirky connections that emerge in dramatically differing styles of art, including his signature scratchboard posters. He also likes to sneak in a little humor and symbolism in his work.
In 1995, Houston and partner Mike King formed the company Voodoo Catbox in order to personally print their posters by hand as well as "to keep the spirit of hands on production alive, and to give voice to less than mainstream musical groups." Voodoo Catbox website


MALLEUS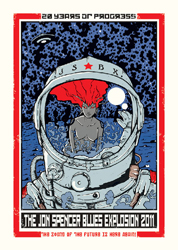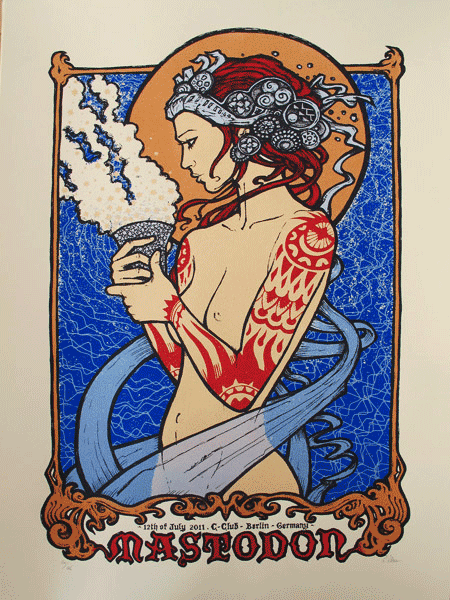 Malleus is an artistic collective of three artists Urlo, Poia and Lu, based in Italy and dedicated to the creation of generally silkscreened poster art. Urlo (bassist and vocalist) and Poia (guitars) are also members of Ufomammut.
Malleus' distinct style involves a clear line and vibrating colours. From the rich organic flow of Art Nouveau, through the psychedelic turmoil of the 60's 'Summer of Love', they create a unique fusion of artistic influences with a flare for the macabre that can only be described as raw, sensual, mystical, beautiful, peaceful, and powerful all at once. Malleus worked for Iggy Pop, Monster Magnet, Sonic Youth and many others and has been designing posters for Orange Factory shows since 2000. Malleus website


JUSTIN SANTORA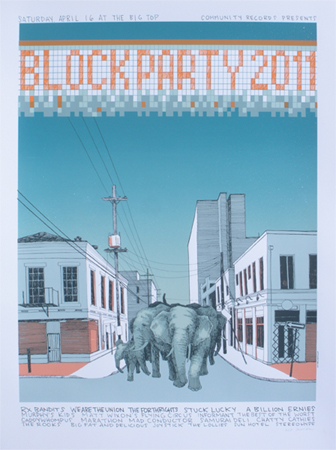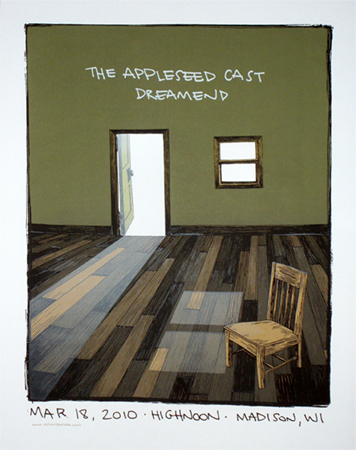 Based in Chicago, Justin Santora is a young illustrator whose work often features unfinished buildings or general architectural structures and his love for animals. Santora's style is inspired by the works of artists such as Francis Bacon, Roy Lichtenstein as well as drawing inspiration from comic-book art. His posters are primarily screen-printed and his drawings have a soft but dark coloured, sketch-like quality. The bulk of Santora's work is for indie-rock and punk bands, like My Brightest Diamond, The Silver Mt. Zion Memorial Orchestra, and Dinosaur Jr. "I think that bands and [poster]artists are able to promote one another symbiotically through the cultures surrounding both music and poster art," he says. website Justin Santora


JOHN HOWARD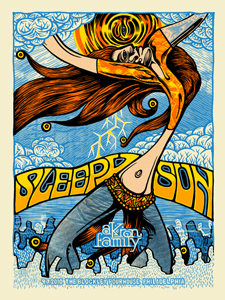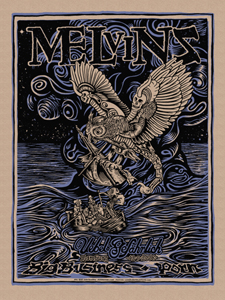 John Howard, the man behind Monkeyink, is an artist living in the San Francisco Bay Area who specializes in interpreting music visually with bold, seemingly carved, often psychedelicized illustrations. Starting in 1994 John designed posters for local venues like The Fillmore (Bill Graham Presents) and the Great American Music Hall. His gig posters feature the likes of Sonic Youth, Melvins, Mudhoney, High On Fire, Boris, Tortoise, Deerhoof, Mudhoney and Queens of the Stone Age. Howard is known for his carefully screen printed 3-D posters, the images really pop off the paper if you use the 3-D glasses provided! Monkey Ink website



---
Back to Concerts